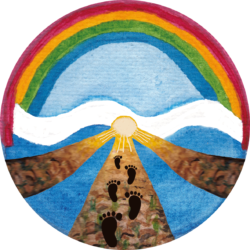 Sanhia's enkla sanning
Du är ett gudomligt väsen. Din gudomliga kraft skapade detta universum och din kropp. Det här kan vara svårt att acceptera utifrån din nuvarande synvinkel. Personer med Gudsmedvetande har fullt ut insett dessa sanningar. Du kan också ha en intention om att vakna upp till Gudsmedvetande. Det gudomliga i dig vet att det inte finns några misstag, att du aldrig kan vara ett offer och att du har skapat varje händelse i ditt liv. Syftet med alla dessa händelser har alltid varit kärlek. Målet har varit att medvetet förverkliga din gudomlighet. Andlig Alkemi är en process för att omvandla den mänskliga rädsla som du bär på, till gudomlig villkorslös kärlek.
För att utföra Andlig Alkemi, erbjuds en metod som kallas fem-stegs processen. Stegen beskrivs till höger.
Vi älskar att bjuda på det vi kan, men vi är också öppna att ta emot donationer.
Använd ditt kort och betala önskat belopp.
.
Femstegsprocessen förklaras mera detaljerat och nyanserat i följande budskap:
Why should how I act make any difference if nothing matters?
How should I deal with my strong feelings?
It seems like the world is falling apart; how can I deal with my fear?
How can I let go of grief?
How long will the Coronavirus last?
Why is it so difficult to let go of the illusion of the world?
How do I give it to Spirit?
Do you confuse cause and effect? 
How do you define yourself?
What spiritual practices should I be doing? (Part 2)
Can you tell more about being in the now?
What if my "old stories" are good ones?
Do I need to transform all of my fears before I can ascend?
Why do negative things keep happening to me?
What can I gain by letting go of control?
Is suffering a necessary part of my spiritual path?
How can I feel more grateful?
Are you afraid of the dark?
What can I do about my dis-ease or ailment?
How can I get the ying and yang energy in harmony within me?
How do I create dis-ease?
How do I deal with my environmental fears?
How can I realize my purpose?
Are aging and death certain?
How can I step out of the mass consciousness?
Why is intention necessary?
How do violence and guilt relate to sexuality?
What do you mean when you say I preplanned this life?
Why is it important to balance my masculine and feminine energy?
What can I do when things are less than perfect?
How can I reduce stress in my life?
Do you believe in a punishing God?
What do you mean by my "old story"?
How does the ego divide and conquer?